Invisalign®
When you hear the word "orthodontics," what comes to mind? Probably a young teenager whose teeth are covered by a latticework of metal. There are indeed many orthodontic patients who fit that description. However, there now exists an increasingly popular alternative to traditional metal braces: Invisalign® clear aligners.
As the name implies, Invisalign clear aligners are made of almost invisible polyurethane plastic. Rather than being cemented or bonded to the teeth as metal or clear braces are, clear aligners are completely removable — for important social occasions, for eating, and, most importantly, for tooth-brushing and flossing. This advantage can also be a disadvantage: It means you must resist the temptation to take your aligners out more than is advised. Here are some other advantages of the Invisalign system:
Improved Oral Hygiene — With an orthodontic appliance that is removable, you will be able to clean your teeth much more easily than if you were wearing metal braces.
A Discreet Look — If you consider your orthodontic treatment to be a private matter, or simply feel that metal braces don't fit with your self-image, a practically invisible form of orthodontic treatment might suit you.
More Dietary Choices — To protect metal wires and braces, some diet modifications are necessary. With clear aligners, you can still bite into an apple or a crispy pizza crust.
Comfort — The soft, flexible material of which Invisalign is made will not irritate the soft tissues of the mouth, as metal wires and braces can.
Teeth-Grinding Protection — If you have a teeth-grinding or clenching habit, clear aligners can function as thin nightguards that will protect your teeth from excessive wear.
Clear aligner technology has been improving over the years and can correct many malocclusions that once would have been too complicated for this form of treatment. Yet there are still some situations for which traditional braces would still be best. We would be happy to discuss this in detail with you.
How Invisalign Works
Invisalign clear aligners work the same way traditional braces do: by applying carefully controlled forces to teeth to move them into a better position. But they are not made of metal; instead, they are made of clear, flexible plastic.
Here's how it works: Specialized computer software helps us design a plan for moving your teeth from their current positions into the best possible alignment. This movement will be broken down into perhaps several dozen stages. For each stage, the Invisalign company will manufacture two plastic mouth "trays" or "aligners," one to fit over your top teeth and one for the bottom. You will wear this first set of trays for two weeks, for a minimum of 20 hours per day. You will then move on to the next set of aligners in your series to accomplish the next stage of gradual movement. You will keep doing this until your teeth are correctly aligned.
In the past several years, two features have been added to make Invisalign a more appropriate orthodontic treatment method for teenagers. Special "eruption tabs" hold the appropriate amount of space open for molars that have not fully grown in. Invisalign for teens also comes with "compliance indicators" built into the aligner material, which fade with wear. This allows parents, dentists, and the teens themselves, to make sure the trays are being worn as prescribed. Treatment with Invisalign can only be successful if this is the case.
Caring for Your Teeth
As mentioned above, one of the main advantages of the Invisalign system is that the trays can be removed for easy cleaning. So please don't neglect to do this! You'll need to brush your teeth after every meal or snack so that food and plaque do not get trapped in the aligners, which could promote tooth decay and gum disease. Your aligners, too, will have to be cleaned regularly; you can do this by brushing them and then rinsing them with lukewarm water.
Also, please keep in mind that while wearing clear aligners is very different from wearing braces, the importance of retaining your post-treatment results is exactly the same. You'll want to be sure to wear your retainer(s) exactly as prescribed after your treatment is completed to protect your investment in a beautiful new smile.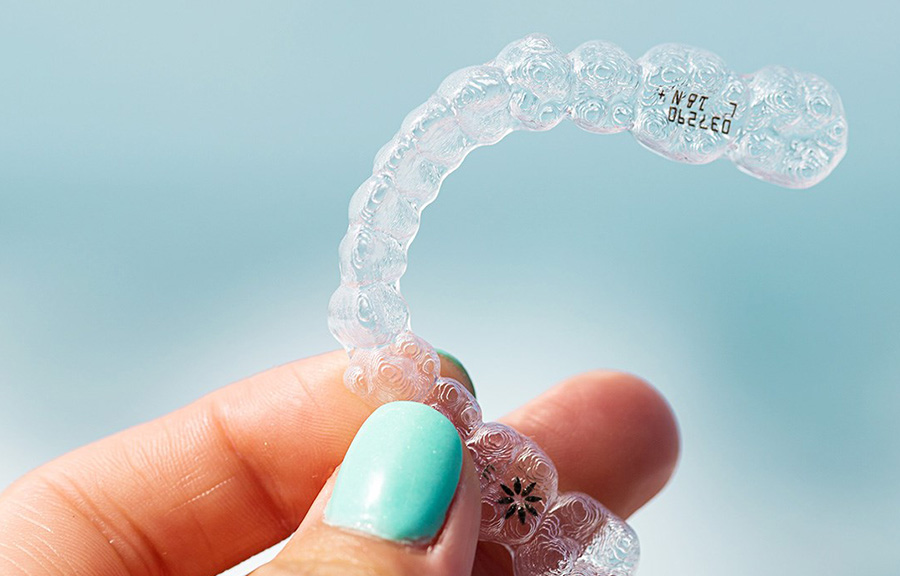 Are you considering mail-order aligners for your orthodontic treatment?
Some online orthodontic companies make their treatment sound as simple as taking a selfie. Some will ask you to include your selfie with an impression of your teeth or get your teeth scanned. Next, you receive aligners in the mail, and after so many months – straight teeth! Right? What else is there to think about?
Here are a few things you should consider:
Is an orthodontic specialist supervising your treatment?
In some instances, direct-to-consumer orthodontic companies do not perform an in-person evaluation and/or in-person supervision of your orthodontic treatment by an orthodontist.
Orthodontic treatment involves the movement of biological material, which could lead to potentially irreversible and expensive damage such as tooth and gum loss, changed bites, and other issues if not done correctly.
How customized is your treatment?
There's no one-size-fits-all approach to orthodontic treatment, which is why a thorough examination of the teeth, their position in the jaws, and the relationship of the upper and lower jaws is imperative to developing a custom treatment plan.
Orthodontists closely study dental records such as panoramic x-rays to evaluate any concerns or potential problems that may be hiding below the surface.
One last thought.
Straightening teeth is not just a cosmetic procedure like teeth whitening, it is a complex biological process that involves moving teeth through bone. What other transformative medical treatment would you undergo without an in-person, pre-treatment evaluation, or ongoing in-person supervision from a medical professional?